Today is Friday at our house (no school tomorrow).  So what better way to end the week than with a Happy Hour?
I love Happy Hour — always have.  Unfortunately, my life rarely allows for me to actually go to Happy Hours.  They usually happen when we're eating dinner, they're expensive (seriously!) & I honestly think I might win 'Mother of the Year' if I show up with any one of my 3 underage children in a bar!
All of that being said, it still doesn't change the fact that I love to mingle with people I like, cocktail in hand and nibbles available on the table.  So that means only locale is an issue, and really not a big one.  Think of this as a home field trip.  We have a house, we have chairs, we have cocktail makings, we have nibbles. Voila! Happy Hour — at home.
Quick entertaining doesn't need to be a huge ordeal. We always have
 wine (good stuff) and beer (of some sort) in our house.  If you can keep a moderately stocked liquor cabinet of just the basics (vodka, rum, bourbon, gin) and some basic mixers (cola, club, Fresca – my fave, cranberry, OJ)  you just made Happy Hour happen in your home.  Some easy cocktails: Spiced Rum & Cola with a Lime; Vodka with a splash of OJ and topped with Fresca; Bourbon & Lemonade
As far as the nibbles — think about your favorite things to nibble on.  Again, things don't need to be complicated, just simple and stress free.  I always have nuts of some kind on hand, crackers & cheese, pretzels, heck, even Goldfish, etc.  If you want to get adventurous, you could plan something warm, but that limits the impromptuness (my own special word) of a get together.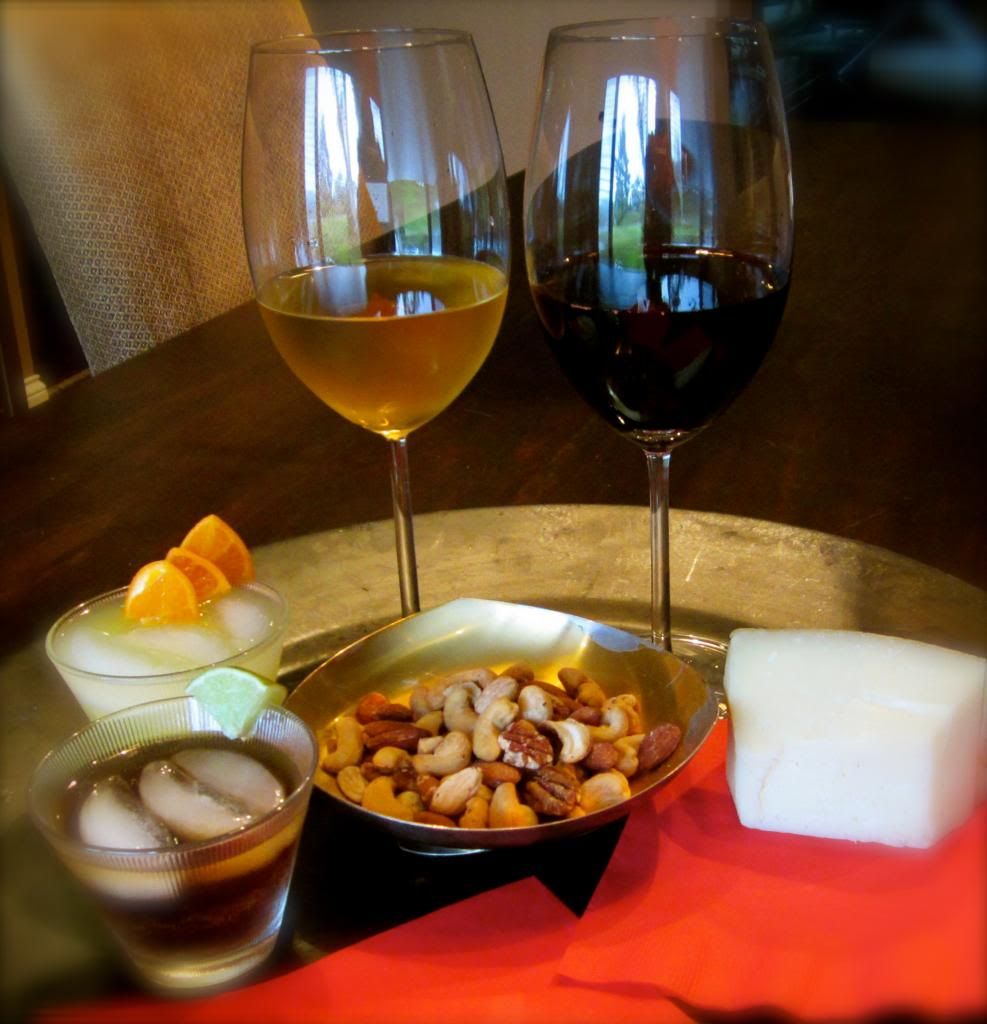 It's not hard to be a considerate host, have fun in the process and then enjoy the results.  More than anything, I bet your friends (like mine) just want to be with you, they don't care if you have hot appetizers or not.
Have a happy Homebound Happy Hour!  xoxo K